10oz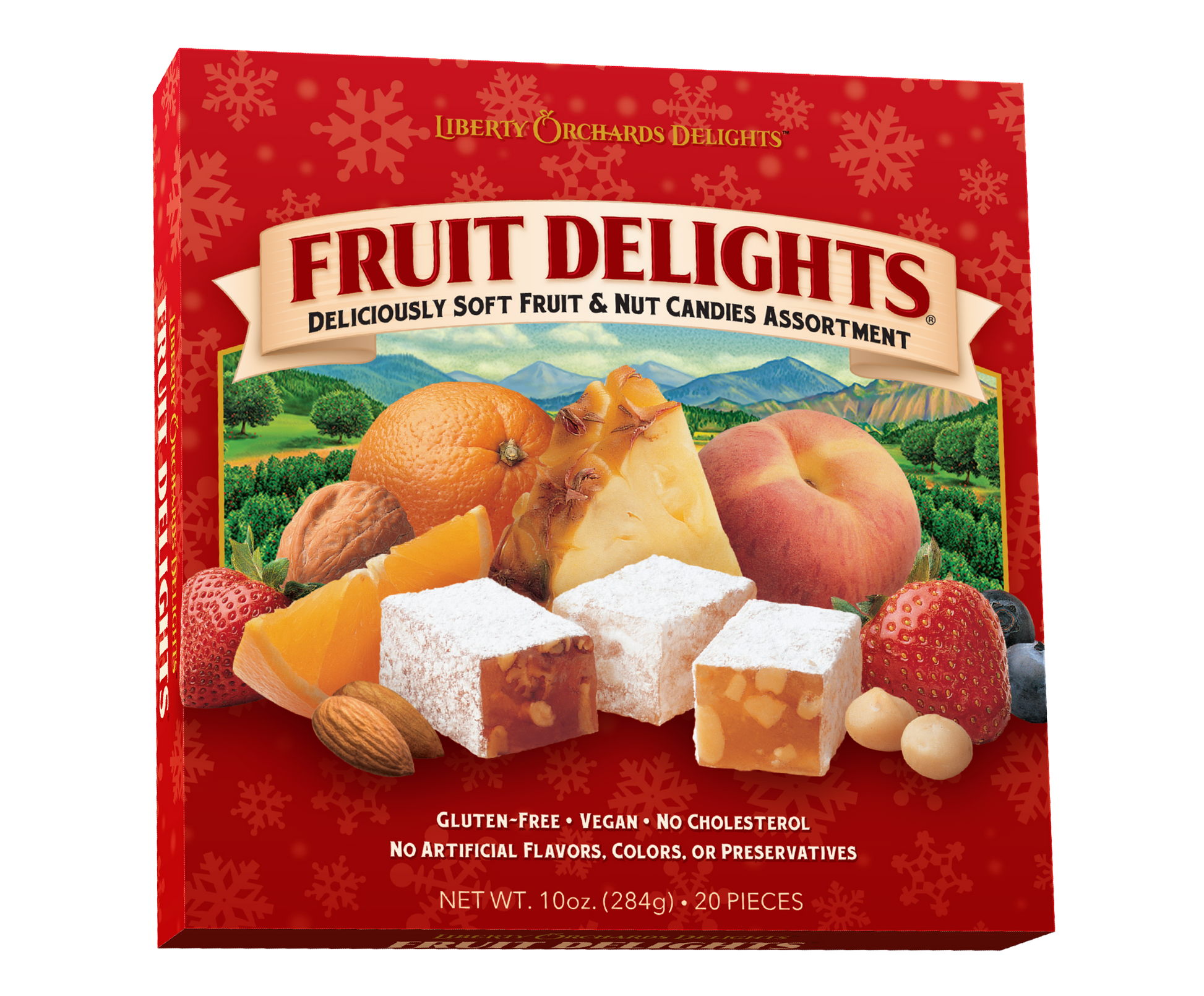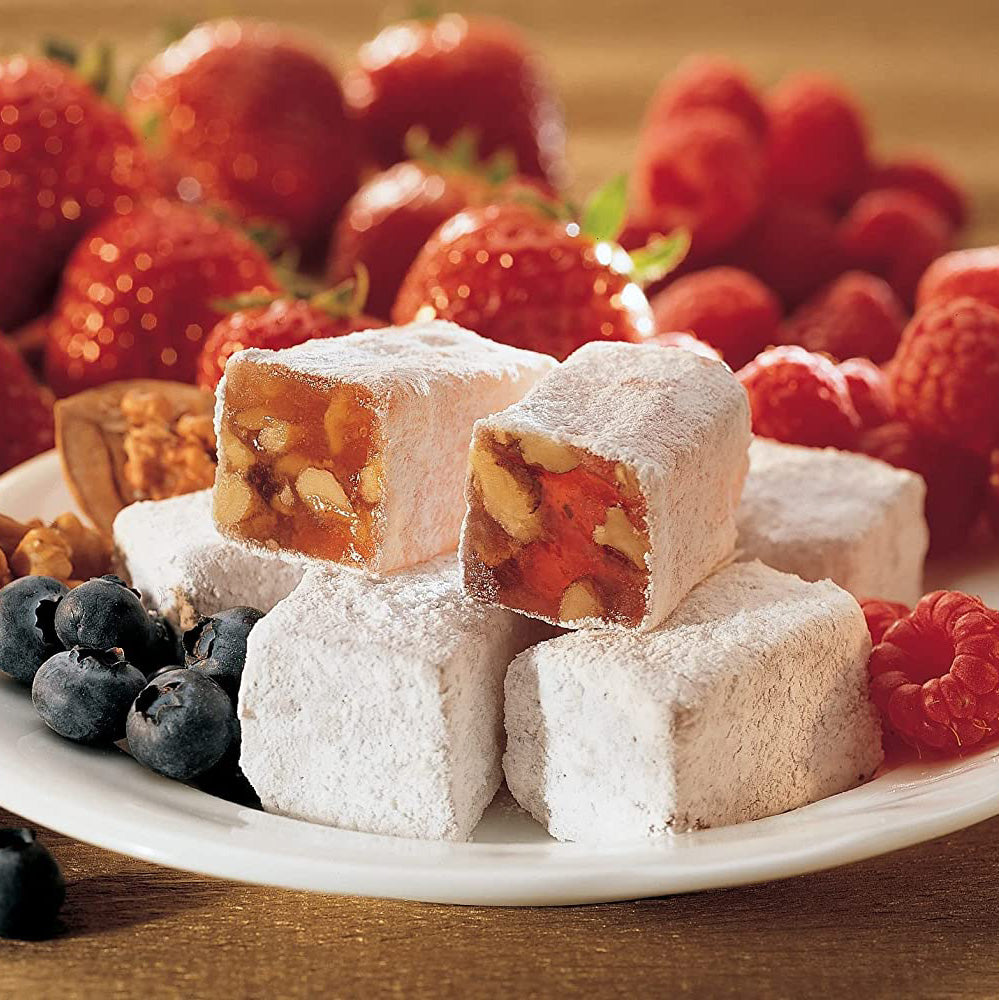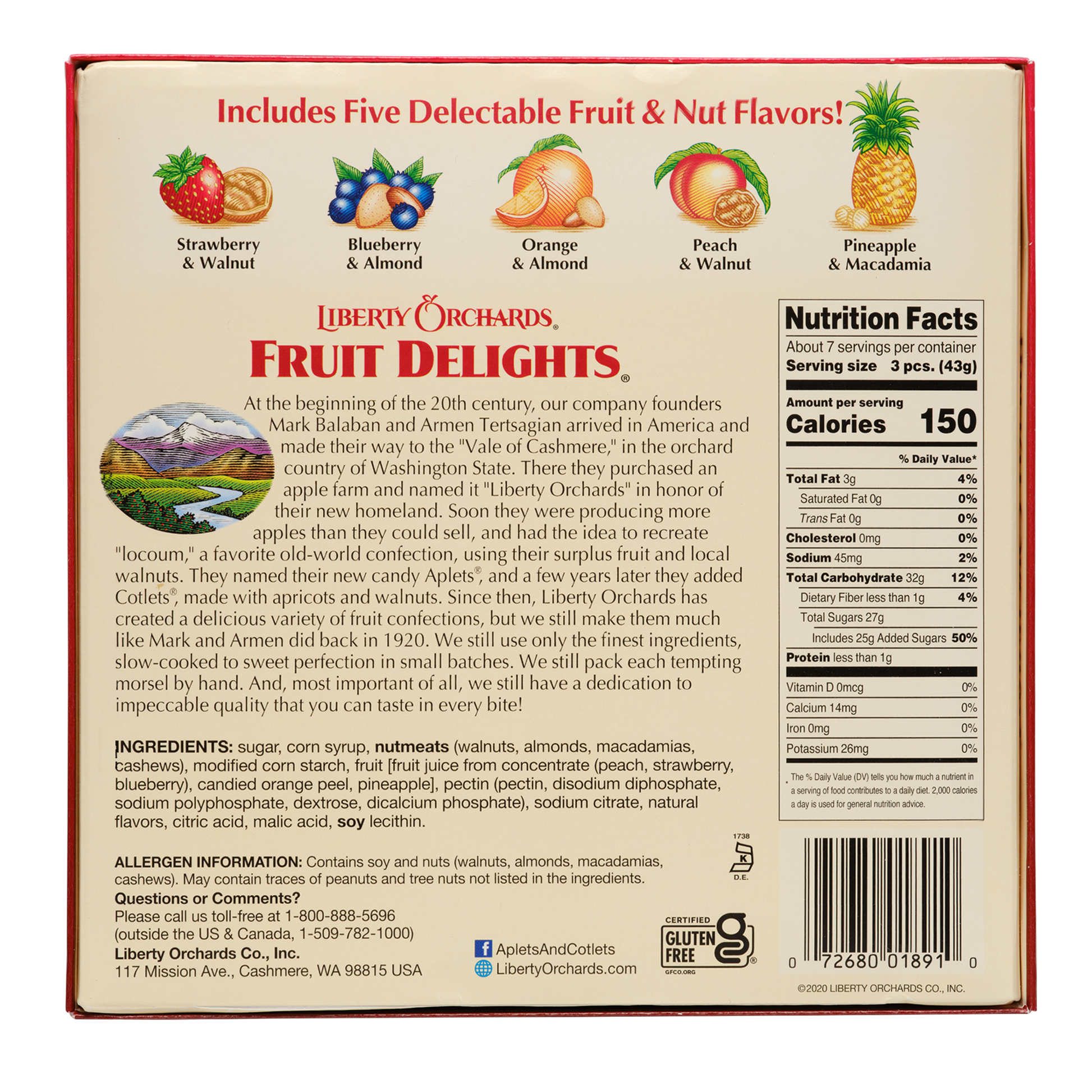 Sale price
$6.50
Regular price
$13.95
A delightful assortment of our orchard-fresh fruit and nut confections since 1984!
 We take the pure essence of nature's juiciest, most irresistible fruits and blend them with tender pieces of the finest quality nuts, then slow-cook them to sweet perfection. The result is a silky-smooth candy bursting with fruit flavor and an irresistible nutty crunch. Includes all six Fruit Delight flavors...Strawberry & Walnut, Blueberry & Almond, Pineapple & Macadamia, Peach & Walnut, Orange & Almond, Raspberry & Pecan. Kosher.
INGREDIENTS: sugar, corn syrup, nutmeats (walnuts, pecans, almonds, macadamias, cashews), modified corn starch, fruit [fruit juice from concentrate (strawberry, peach, blueberry), candied orange peel, pineapple], pectin (pectin, disodium diphosphate, sodium polyphosphate, dextrose, dicalcium phosphate), natural flavors, sodium citrate, citric acid, malic acid, soy lecithin.
ALLERGEN INFORMATION: Contains nuts and soy. May contain traces of peanuts and tree nuts not listed in the ingredients. Our macadamia nut candies include a small amount of cashews.
Serving Size: 3 pieces (42g)
Servings Per Container: 6.6
Calories: 160
Calories from Fat: 30
Total Fat: 4g (6%)**
Saturated Fat: 0g (0%)**
Trans Fat: 0g (0%)**
Cholesterol: 0mg (0%)**
Sodium: 55mg (2%)**
Total Carbohydrates: 31g (10%)**
Dietary Fiber: 0g
Sugars: 24g
Protein: less than 1g
Vitamin A: 0%
Vitamin C: 0%
Calcium: 0%
Iron: 0%
** Percent Daily Values are based on a 2,000 calorie diet. Your daily values may be higher or lower depending on your calorie needs.